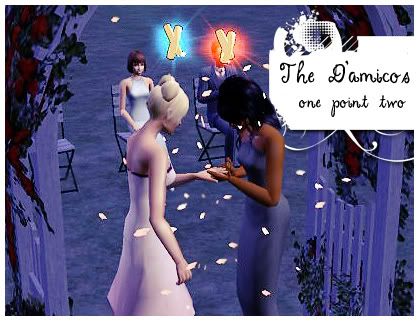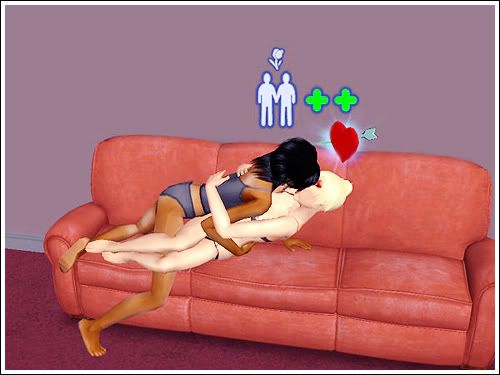 So yeah.. Their relationship is going well.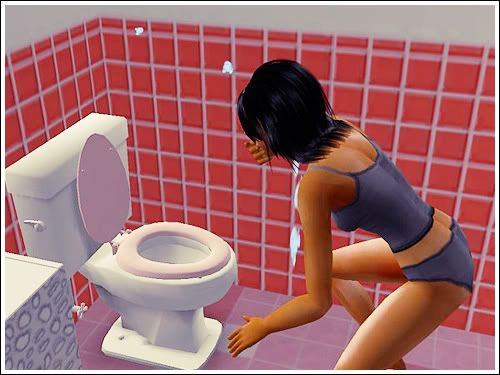 Oh. Now.. how'd that happen?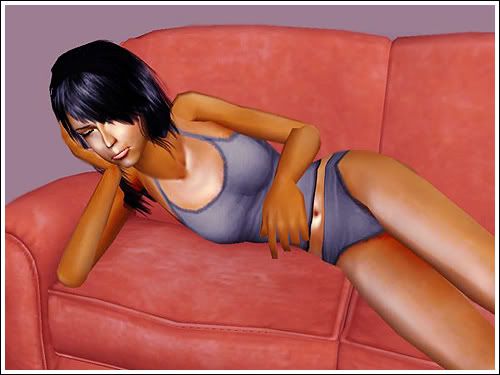 Jill isn't too happy about being preggors.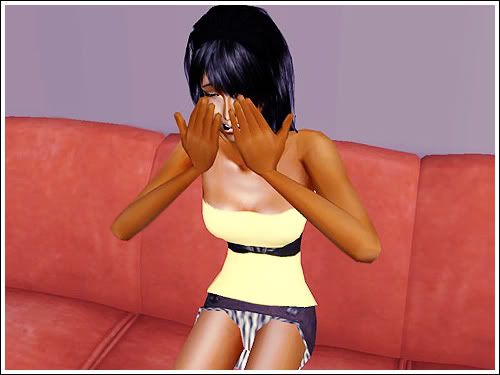 Jill: WHY IS THIS HAPPENING?! *sob*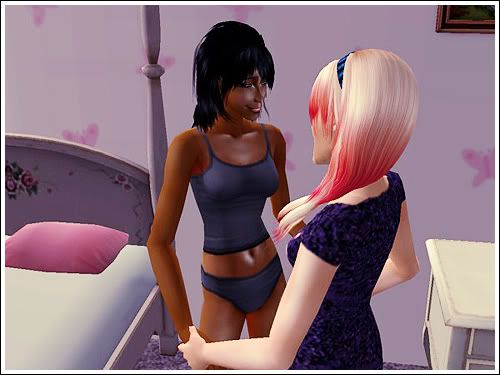 Know what's gonna happen next??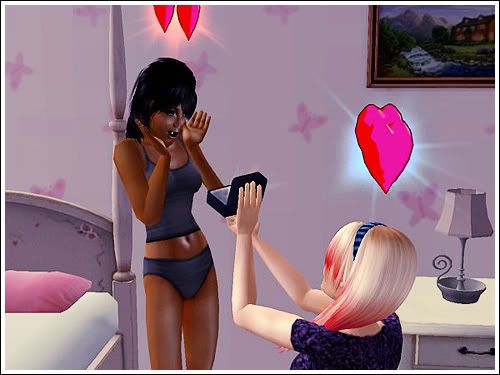 Jill is such a weird romance sim. She had no problem with being in a commited relationship, or getting engaged right after.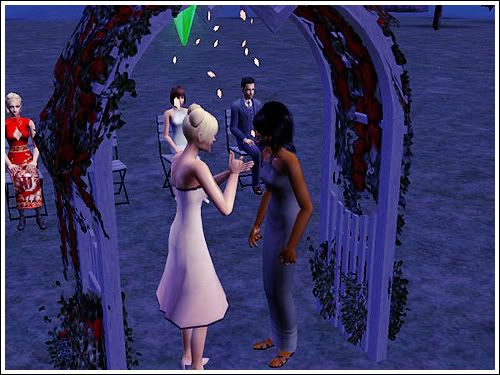 Getter married wasn't an issue, either.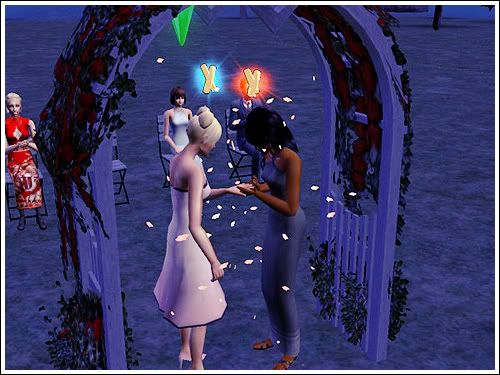 It's burried in her subconcious.. the baby pre-post-partum-depression must of thrown her out of whack.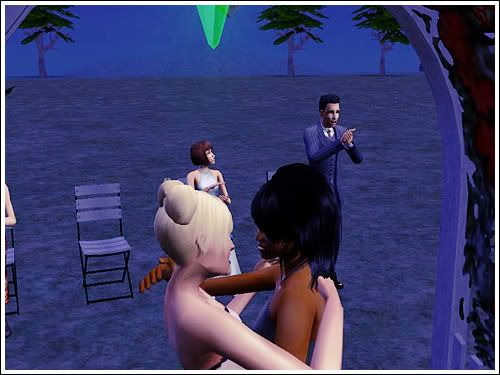 Gilbert: YEAH TWO CHICKS GETTING MARRIED!! I AM ALL FOR THAT!!



Dancing.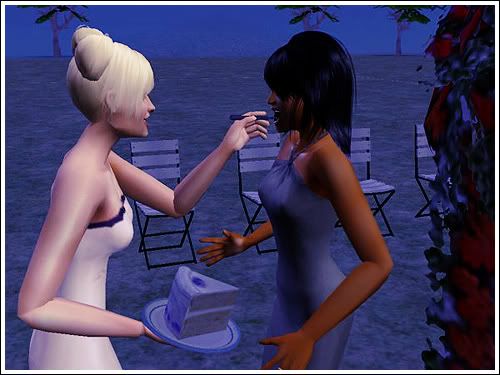 Eating cake outside in the cold. So romantic.



Then eating cake inside with friends.



This was so lucky, she popped right after that second piece of cake. (I'm usually quite unfortunate and the bride will end up with ugly maternity dress during a wedding)



How's Kay celebrate? Getting high with her feminists group.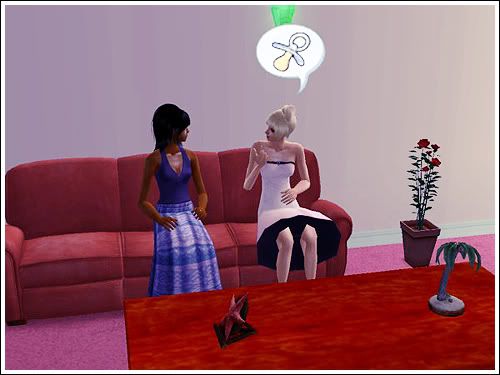 WHY DO ALL MY SIMS HAVE THE BABY SPEECH?!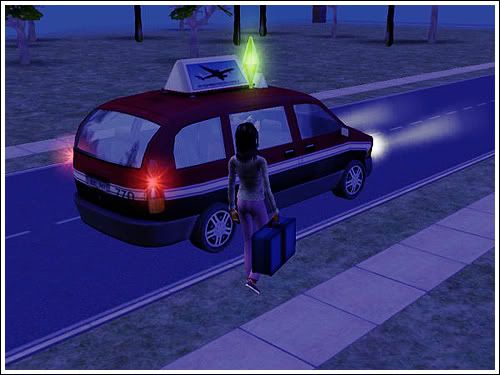 They both rolled wants to go on vacation. (WTH?)



Hotel busboy: Alright. Two chicks sleeping together!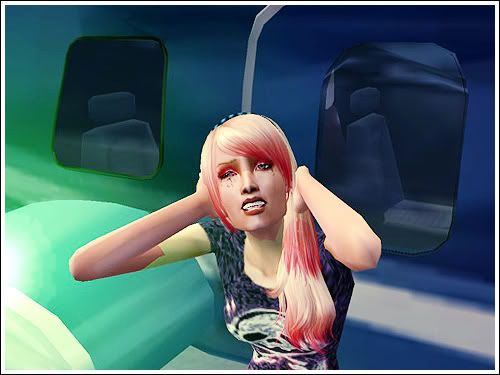 Will you please get over it?



Natives still don't like her.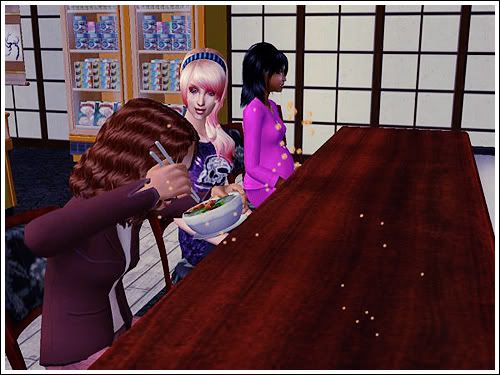 Probably because she openly shows her disgust for them.



Kayleigh: I am all about flip flops over here.
Jill was overcome by her sexy flip flop speech.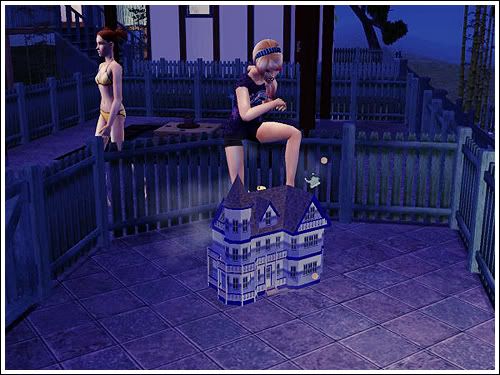 Jesus woman, why?! That was for the little chinese kids.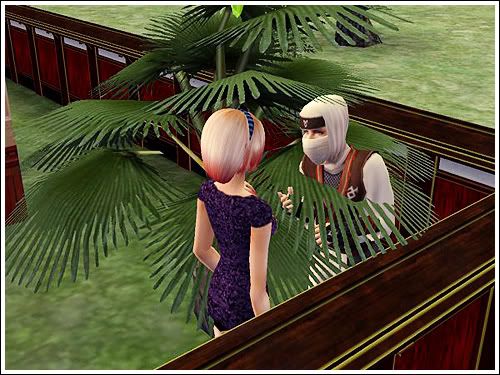 I've come to a conclusion: Ninja's HATE Kayleigh. She found about four of them, and none of them would teach her to teleport. She actually wanted to learn, too. Normally she doesn't even give a shit about her surroundings.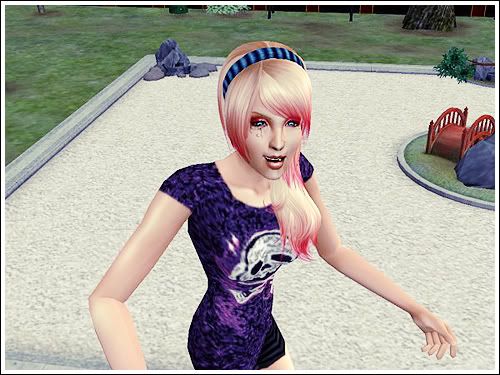 don't worry.. she went back to be batshit.

OOPS SPOILER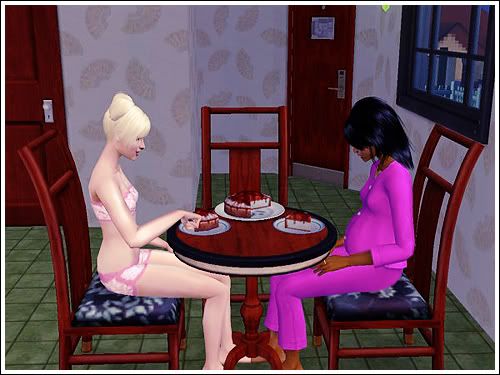 Yeah, if you know anything about the game, you know what's going to happen later.
I really did this inadvertantly... For some reason only deserts popped up on the menu??



I hope they don't have two kids with lips like that.. she's beautiful but.. *shudder*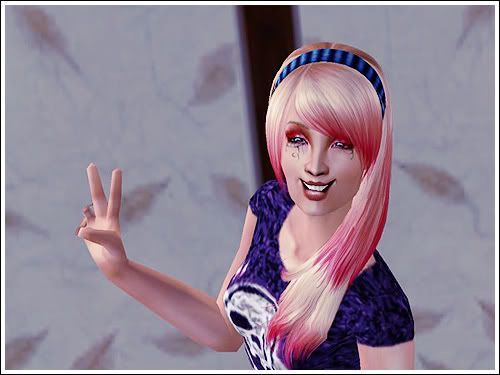 Kay makes up for everything being hot & looking like Paris Hilton. (That sounds contridictary, I know)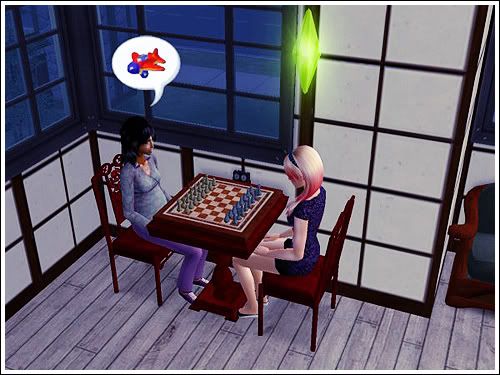 This is really what they did on vacation. REALLY.



Kay! Stop dreaming about men!! They're evil, remember??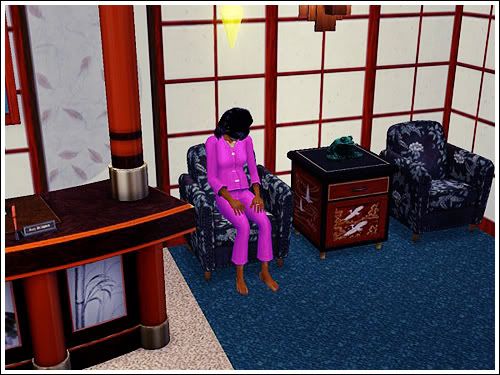 ROFL. pregnancies are hard.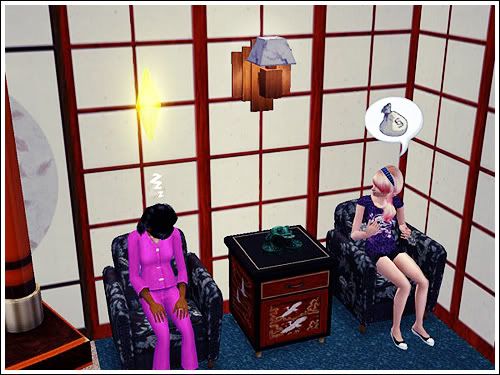 Kay: So yeah - I think we spent a good amount of money on this trip... you listening?



Home time. And this time they're staying.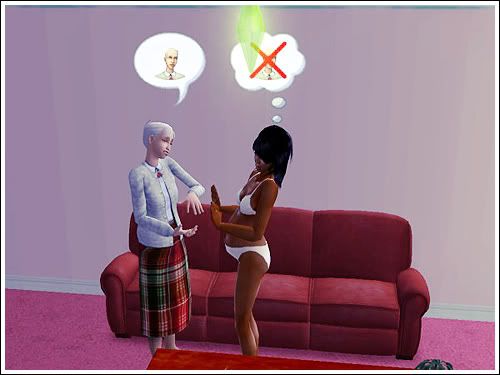 I really hate having to hire a nanny to look after a dog. The family doesn't like it either.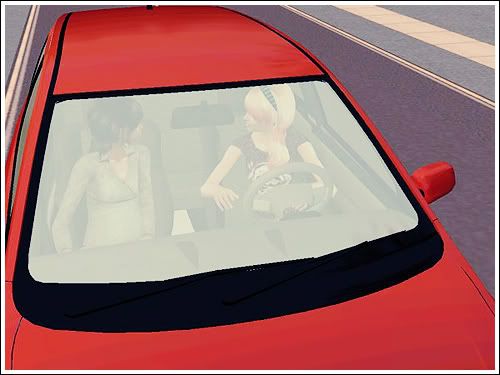 And this is what happens when everyone wants to do public woohoo's.



They also got a maid that Jill loves to chat up any chance she gets. The maid's head over heels for her, but Jill doesn't like her at all. This the only entertainment that goes on while Kayleigh's at work.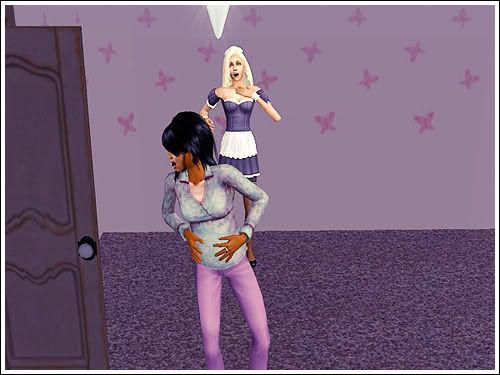 I think the maid may be done with her, though. I mean, having to watch her give birth is enough to turn anyone off.



It's a girl!! Megan. She looks like Kayleigh.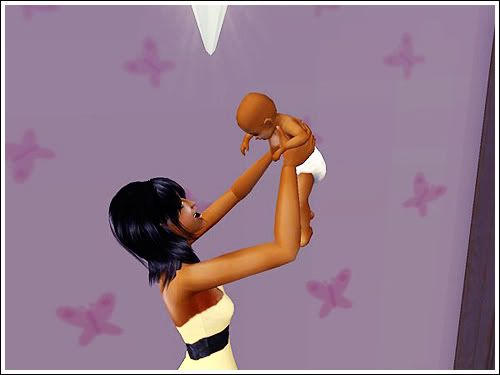 And a boy!! Chris - who looks like Jill.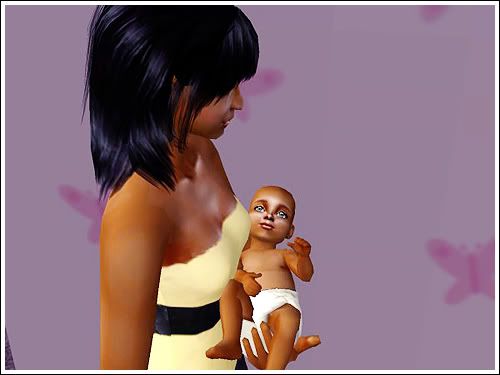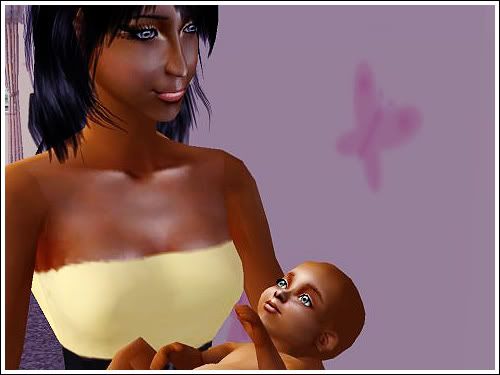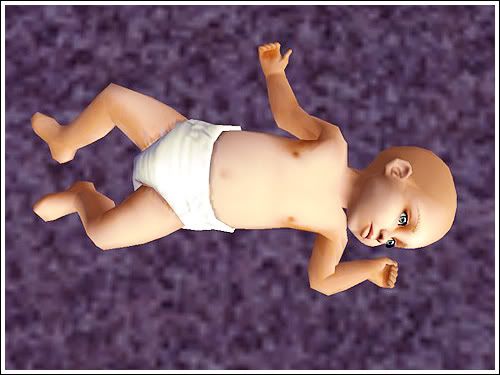 LOL Meg is already on the floor and getting mistreated.



Denise, can you please GTFO out of the house and stop messing with the children.. gah.

Next update - will Meg and Chris become toddlers? or will someone want to go on vacation again?